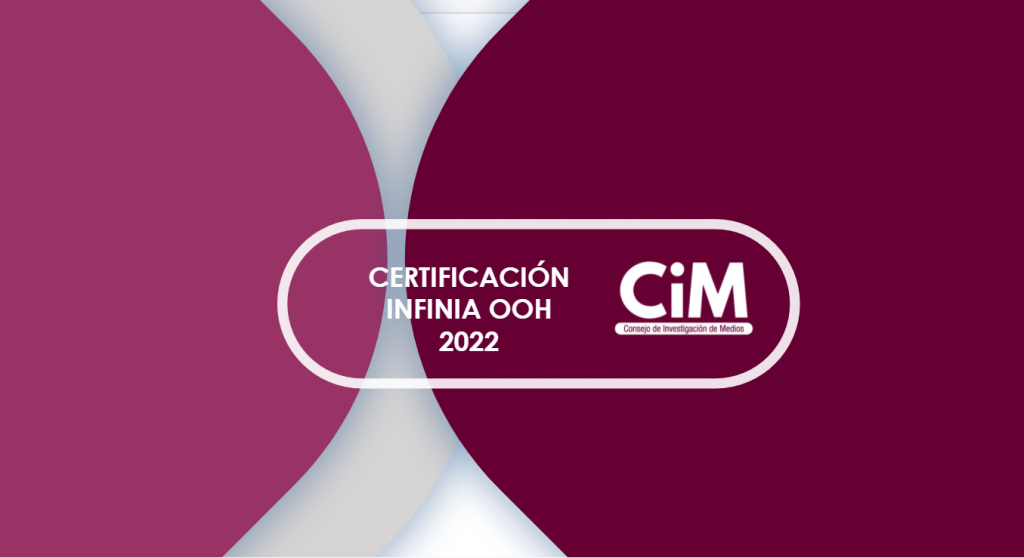 Infinia Mobile informs that its technological platform for the analysis and planning of foreign audiences has obtained the certification as "Audience Meter and Audience Auditor on OOH", positioning itself as the best option for technology agencies, exclusivists and advertisers.
For its part, the Media Research Council, AC, (CIM) Mexico, informs that in accordance with its objective of validating and certifying the processes and methodologies used in media measurements, under criteria of fairness and transparency, in accordance with the provisions of the Guidelines for the Measurement of Outdoor Media on Public Roads CiM has completed the review and audit process of the Infinia Mobile audience measurement model on public roads, for which it has obtained certification from this Council.
The CIM implemented Technical Certification Guidelines as a quality standard for Audience Measurement, as well as the Basic Interest Requirements of the industry for External Media Measurement to give certainty to its users about the quality of the service and the data generated.
These have been the guidelines scrupulously audited to grant the official certification
GENERAL methodological guidelines
Media coverage

Target population
definition of the universe
mobility measurement
Survey methodology
sample design
Use of visibility weights
audience calculation
QA
Audits
Methodological modifications
Guidelines on DELIVERY OF INFORMATION
Audience variables

Report targets
Validity of estimates
Delivery system and procedures
Guidelines for SITE EVALUATION
Geo-referenced location

Dimensions
Exposure time in seconds
Distance
illumination
space saturation
Average speed of vehicular traffic at different times and by day of the week
Means of Transportation (public and private)
pedestrian influx
Visibility (Obstructions)
angulation
Height
art movement
Quality control of all variables 1-13
Guidelines for MEASUREMENT ON PUBLIC ROADS
Mobility on public roads
Route mapping
Use of visibility weights for the measurement of supports on public roads
Audience calculation
Updating of databases
THE CERTIFICATION SUPPORTS INFINIA MOBILE'S OOH MEASUREMENT PROPOSAL
The procedure was executed under strict methodological adherence with the members of COTAE, the members of the Foreign Affairs Committee and under the intensive collaboration of the Infinia technical team for more than 12 months and through strict audit processes.
It was concluded that Infinia has a statistically reliable measurement model, with a valuable technological tool that allows scalability and that the estimations of the individual's profile, its sample filtering process, geographic allocation, as well as the information projection are well designed. . Likewise, it was shown that there are sufficient protocols to protect the information. The results led to the committee's recommendation to certify the model for measuring audiences on public roads, which was ratified by the CIM Board of Directors.
User measurement method in the middle ooh-dooh. Documentation provided by Infinia Mobile