Infinia in its SDK 3.0, has introduced new functionalities to face the elimination of the identifier for advertising, or IDFA, in the new iOS 14.
After Apple's announcement of the launch of iOS 14, the new version of its operating system, much uncertainty has been generated in the sector, creating a direct conflict between user privacy and digital advertising.
As Infinia already exposed, [see: iOS 14 puts the digital advertising industry in jeopardy], the loss of information that involves consumer behavior through experiences (apps, sites, etc.), makes Facebook, Google and other advertising networks have less visibility when serving ads.
What solution has INFINIA developed?
The Infinia product team assumes that, after this update, the user revokes the permission that the apps generate to track, which means that millions of users will use the applications without being able to be identified. For this reason, Infinia has developed a previous step to the app notification, to minimize the negative impact as much as possible, and continue to offer its publishers all the advantages of its premium network.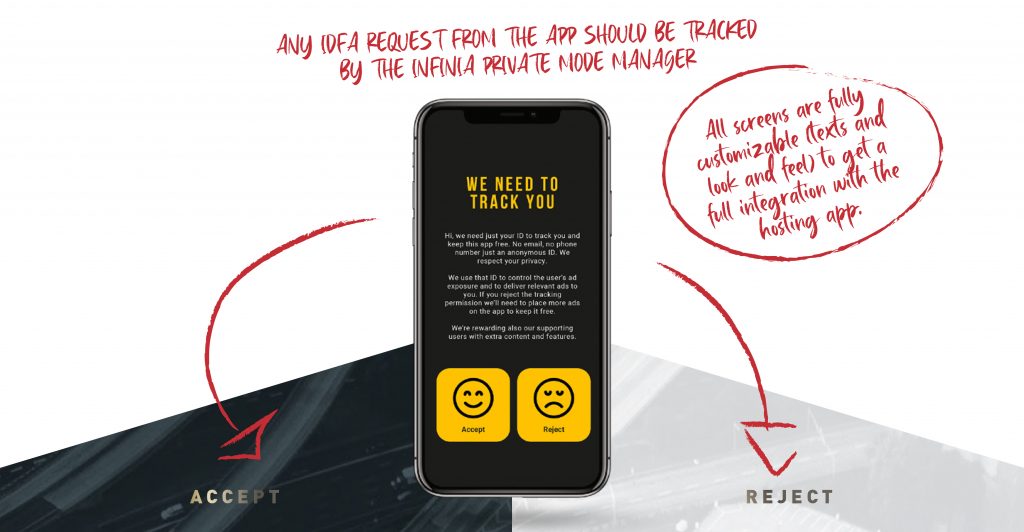 In addition to this previous step, in the case that the user continues to reject the permission to track it, Infinia has proposed, together with its network of publishers, a series of premium content and better advertising service subject to the user accepting the permission.
Despite this, Infinia's audiences are mainly based on Android devices, 85% of the 240 million users it has in its DMP, so the loss of device tracking will be minimum.
Download the full content to see the Infinia solution!