INFINIA expects to lose just 15% of its users on Apple devices, while the market, on average, predicts a 45% slide
Apple's pending launch of iOS 14, postponed to "early 2021", is putting consumer privacy and digital advertising at odds, calling "check" on Google, Facebook and data companies: if Apple is talking about closing its ranks in user protection by offering greater privacy, we cannot ignore the fact that for marketing it means a comprehensive disruption in digital advertising as we know it.
What does iOS 14 involve?
Apple devices running iOS 14 will require applications to attain explicit user acceptance to track behaviors in native developments with the Identifier for Advertisers, or the IDFA. This links a unique number to a user's device, allowing advertisers and data firms to evaluate interactions with adverts on a disaggregated basis. The ability to block third-party user tracking has long been a feature of browsers that prioritize privacy in desktop environments, and it has been offered as an option (rather tucked away in the options menu) within the mobile device ecosystem. However, the shift in the latter environment to more explicit user participation when granting tracking permission is expected to be detrimental to the targeting and allocation of application adverts.
40% loss in value on iOS 14 users
By losing access to information that links consumer behavior via experiences (applications, websites, etc.), Facebook, Google and other advertising networks will have less visibility into the users' identity when it comes to posting their ads.
Without clear information about potential consumers, networks like Facebook will have to rely on non-personalized information to determine who a given advert should be displayed to, which means in iOS 14 applications and devices, consumers who do not grant tracking permission would know that their ads will be less personalized. The upshot of this is that advertisers will have much less impact. To be specific, content publishers fear that changes in iOS 14 could drastically alter in-application advertising, as we know it, thus upending the monetization of their properties on the Apple mobile platform.
According to a study by Singular, about 25% of Apple users take advantage of the LAT (Limit Ad Tracking) functionality. This volume of "anonymous" users is expected to increase to 40% with the changes of iOS 14, and cause a 50% drop in advertising revenue for publishers and app developers, bringing on an almost apocalyptic situation to digital advertising on iPhones and iPads. Is Apple really looking out for user privacy, or is it just trying to knock Google and Facebook down a peg? The answer is obvious, especially if we consider that since iOS 13, Apple users already had the LAT function, that is, to protect themselves if they were interested.
With the tracking permission, iOS 14 will change the rules of monetization in its ecosystem. Performance or localization campaigns would be the most affected; as tests have shown, there is a 50% impact on revenue when limiting the location, the allocation of downloads or the optimization of campaign delivery via tracking.
According to StatCounter, Apple users accounted for 22.85% of the world market share in 2019, compared to 74.45% of Android users. This may give us some breathing space, especially for companies whose business is in Europe, Latin America or Asia, but even so, the situation is particularly worrying in the United States, where Apple users represent 52% compared to 47% of Android users.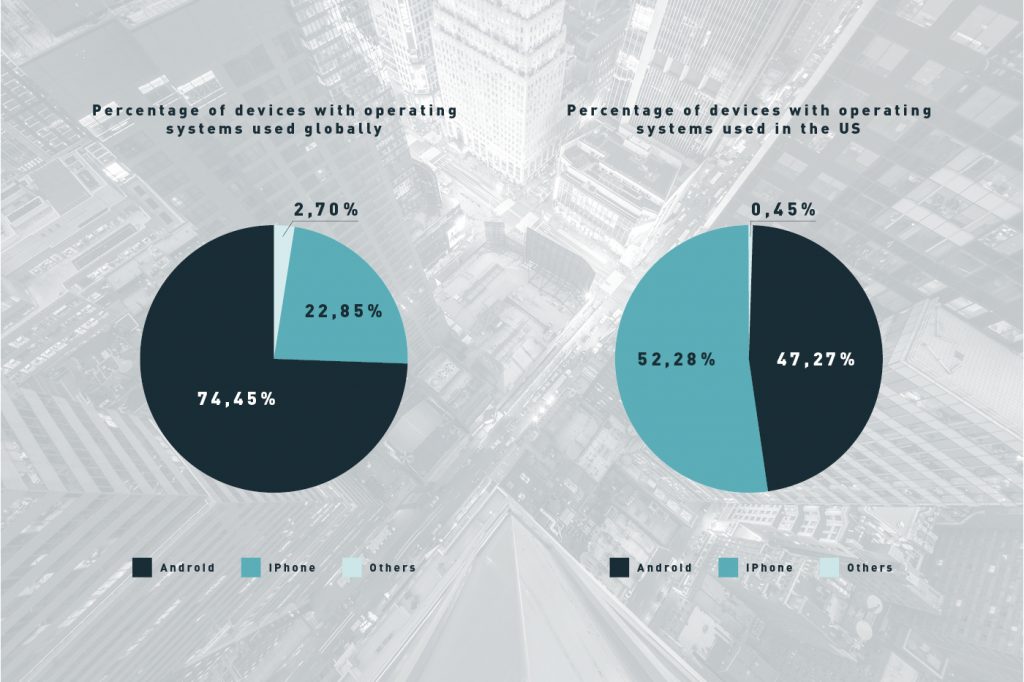 At the same time, there is an imminent spectrum of broader government regulations, following in the footsteps of the GDPR and CCPA, that seek to take a stand on consumer privacy and the use or sale of this data for advertising (or other media). Legislation is being considered or implemented in many U.S. states (Maine, Massachusetts, New Hampshire, New York and many more) and in other countries, such as India.
INFINIA expects to lose only 15% of its Apple device users
In Infinia's SDK 3.0 version released this summer, we have implemented a solution to mitigate the loss of tracking in iOS 14 users as much as possible. The total number of iOS 14 users under the Infinia DMP represents 25.26% of the total number of Infinia users.
The Infinia product team has suggested operating a layer above the IFDA request, to avert the aggressive Apple message that prompts the user to say "no". Users tend to decline permissions they do not understand, however, most do not forbid an app to track them if it means better advertising and better application performance, and that is what we want to convey from Infinia to our users, explaining to them the need to activate the tracking.

When they access an app that needs to have the tracking activated, the user will be shown a message with a friendly explanation as to why the data is needed; if they accept, they must then accept the message from Apple. In the event that the user does not accept, Infinia has agreed with its publishers to offer higher quality content and access to premium areas (or advantages and aids in mobile games) if they activate the tracking permission.
With this solution, we hope to reduce the loss of users to only 15% and shelter our publishers and partners from the costs of adapting to new changes by offering a whole series of methods and libraries which are easily adaptable to their developments.