NGL COLLECTIVE AND INFINIA PARTNER TO PROVIDE GREATER R.O.I. AROUND U.S. LATINX DIGITAL AD CAMPAIGNS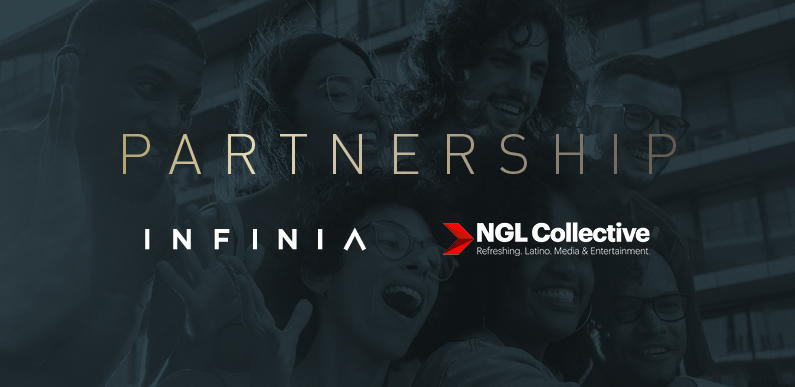 NEW YORK- AUGUST 3, 2020 – NGL Collective announced today a strategic partnership with Data Management Platform, INFINIA, to offer advertisers greater one-to-one brand connections with the digitally-connected U.S. Latinx audience. Coupled with NGL's #1 U.S. Latinx comScore ranking, overlaying Infinia mobile device ID's enables hyper-targeting and greater measurement at scale ultimately yielding a higher ROI for advertisers The combined offering can be accessed both directly and programmatically with custom multi-platform solutions inclusive of NGL Collective's high-impact display and video placements across top Latinx publishers.
Infinia's 30 million U.S. Latinx mobile device ID's come from the placement of their SDK in more than 10 thousand Apps worldwide. NGL and Infinia will partner to create custom audience clusters for advertising clients based on demographic, psychographic, geo-locational and behavioral data signals. Attribution models allow advertisers to follow target users all the way down the purchase funnel to the point of sale. All data is GDPR and CCPA compliant, and Infinia data collection procedures are audited by PricewaterhouseCoopers.
"Infinia's robust data management platform combined with NGL's industry-leading media, content and insights offering delivers more value for our advertiser partners all the way down the sales funnel inclusive of brand lift and sales attribution. During these rapidly evolving market conditions, NGL continues to innovate and deliver the most robust solutions for our digital advertiser partners seeking more certainty, measurement and ROI," said Joe Bernard, CRO, NGL Collective.
"We are in a moment of technological transition that requires us to continue innovating and providing our own insight solutions that do not depend on large monopolies such as Google and Facebook. Technology now more than ever must be creative and flexible and push the market to grow in this direction. As diverse as the U.S. Latinx audience is, the importance to reach them, understand them and most importantly connect to them has never been more prevalent than it is today for our clients. Our success has been in being able to provide these insights that impact client objectives and this is what we will continue to accomplish with the NGL partnership," explains Santiago Herrera, Managing Director US, INFINIA
"We have been working for more than a year on the traceability of the user, how to identify them on their different devices and at the same time, on their physical movements. After almost 18 months, we have already managed to model the data funnel attributed to each user cluster and we are excited to be able to relate this to the U.S. Latinx consumer," says Fausto Fernández, CEO & Founder, INFINIA.
The joint offering will be turnkey and cost efficient to execute against for clients. Campaigns for advertisers in the CPG, Auto and Telcom categories have run since launch, with other brand partners already signed on to begin campaigns later in Q3 and Q4.
###
NGL Collective is a pioneer of new media and entertainment that connects advertisers and New Generation Latinos (NGLs) through video across platforms in-language, in-culture and in-context. Decades before it was cool, understood or even acceptable to talk about the NGL majority that is driving growth in America, NGL Collective was dedicated to modernizing the way advertisers reach and engage New Generation Latinos. As the group who coined the term "New Generation Latino," we know NGLs best and help advertisers connect with them in more ways than anyone through our end-to-end video content and media solutions delivered through our NGL Media and NGL Studios divisions.
Media Contact:
Joe Bernard | CRO, NGL Collective | jbernard@nglmedia.com
INFINIA is a leading technological platform in providing in-depth insights of AUDIENCES with presence in Europe, Latin America, and the United States. Its consolidated trajectory is based on its DMP fueled by its own 1st Party DATA, which has allowed INFINIA to lead the audience and data platform segment, with a current management of more than 240 million known users Globally. This for the 1st time in the market has allowed clients to fully understand audiences which go beyond clusters created by language-based content consumption or extrapolated insights via a small representative panel approach. Due to its commitment to transparency, Infinia was one of the first technology companies to adapt to the European GDPR legislation, was voluntarily audited by PwC in 2019, and has its attribution data model approved by Deloitte in 2020.
Since 2018, INFINIA has opted to introduce artificial intelligence techniques into its technology, which would allow it to treat data more in-depth, with the aim of offering the market micro-segmentation of audiences for hyper personalization of targets and thereby, making marketing costs more efficient. This has evolved in 2019, with the inclusion of attribution models for physical stores: FOOTFALL. Currently, in 2020, INFINIA has already committed to developing the "Predictive Insights" product line in the market.
Media Contact:
Lidia Loureiro López | Head of Marketing INFINIA | lidia@infiniamobile.com
Check it on: https://nglcollective.com/news/ngl-news/ngl-collective-partners-with-infinia/